Ludwig 6.5" x14" Black Beauty Snare Drum LB417B
Ludwig LC633 Raw Copper Phonic Snare Drum
45th Anniversary Green Sparkle Vistalite Kit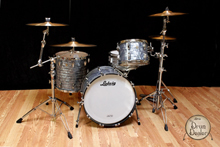 The Ludwig Fab 22 features new Atlas Mounts on the tom tom, and floor tom for optimal shell resonance. This kit is wrapped in the popular Sky Blue Pearl finish, with new Cast Keystone badge. Pre-configured outfits are available as models in 4 different finishes. Contact use for further details on what's available. Standard 3 year warranty on USA Shell Packs


Please contact us for the best possible price - See Additional Photos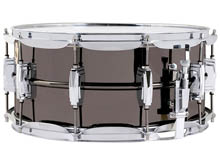 Ludwig 6.5" X 14" Black Beauty snare drum. A true American classic sound. One piece brass machine drawn into a seamless beaded shell, and completed with P85 throw off and triple-flange hoops. This is the snare drum you've been waiting for. Sonic and aesthetic beauty. Cuts through the loudest of band situations, but sensitive enough for the most critical of moments.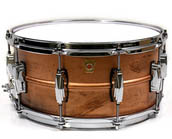 The Drum Dealer is proud to offer the copper timpani, the 6.5x14" Ludwig LC663 Copper Phonic Snare Drum is the newest member to the Ludwig USA snare drum range. This legend in the making features a dark lacquered copper finish, 1.2mm thick shell, Imperial lugs and 2.3mm hoops. Comes with a P85 throw-off and a P33 snare butt.
Price: $769
Please contact for a killer deal !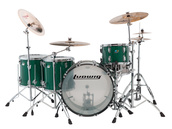 Here's the new for 2017 Green Sparkle Vistalite drums! The L94434LX75 is comprised of a 14x24" bass drum, 9x13" tom tom (with Vibraband and holder), 16x16" Floor Tom, and 16x18" Floor Tom in Green Sparkle finish. The Green Sparkle kit offers a unique shell composition where sparkle flakes are embedded within the shell itself, unlike typical Green Sparkle wrapped or lacquer finishes. This presents an unparalleled visual effect that has never been seen before in the Vistalite series.
Only 45 of these drum sets were made for this year. Very Limited Availability See photos here

Price: Please contact us for an ultra low price quote.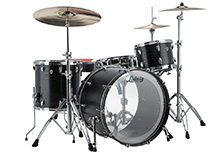 Ludwig has redesigned the Keystone series and introduced the Keystone X The Keystone X features USA Classic lugs, Triad floor tom brackets, Remo heads and 7 stunning finishes. 3 ply (Maple, Oak, Maple) construction and dual 45 degree edges. Proudly made in Monroe North Carolina. 3 piece Pro Beat shell pack pictured.
Please contact us for an ultra low price!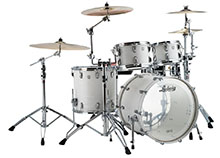 Ludwig has redesigned the Keystone series and introduced the Keystone X Photo shows the Big Beat configuration which includes 16x22 bass drum, 7x10 tom, 8x12 tom, 16x16 floor tom.
Please contact us for an ultra low price!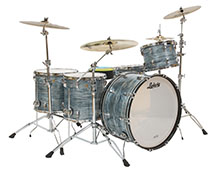 Available again after a 50 years, Ludwig has reintroduced the original non bowling ball Blue Oyster Pearl wrap. One of the most beautiful timeless classic finished.
Please contact us for an ultra low price!+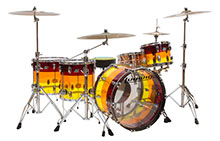 Limited edition Ludwig VistaliteTequila Sunrise. Only 50 Pro Beats (pictured) and 50 Superclassic kits will be built.

Call or email us for killer deal.
About The Drum Dealer: The DrumDealer.com is your Online/retail drum shop with expert knowledge and competitive pricing on all Ludwig drums and Zildjian Cymbals. We're a division of Rock N Roll Vintage Inc., an authorized Chicago Ludwig and Zildjian dealer. We sell Ludwig Drums and Zildjian Cymbals Online and in our Chicago guitar/drum shop. Yes we have a real brick and mortar store but please read on to see how we sell Ludwig drum kits and visit Rocknrollvintage.com for more details about our shop.

Contact us for a quote before you buy your next Ludwig kit or snare. We specialize in high end USA Ludwig Drum kits, Snares and recently discontinued and close out Ludwig drums. We're not one of those super stores, here you'll find a knowledgeable and friendly staff to work with. Rest assured we can provide any Ludwig drum kit or snare available. Drop us an email at sales@TheDrumDealer.com or call our shop at 773.878.8616 for Ludwig pricing or to place a factory drum kit or snare order. Please note we are a U.S. based Ludwig dealer however we do not stock or sell Ludwig parts.
-